Slides of the 3rd of April 2012 BeCPP Meeting
I would like to thank everyone who joined us for the first Belgian C++ Users Group meeting that was held on 3rd of April 2012.
Something extraordinary happened with that meeting. Most user groups have an average of 20% to 30% of people that are not showing up but that have registered for the event. For our first C++ meeting, it was the opposite; 18 people had registered for the event, but 19 people arrived for the meeting 😀
If you couldn't attend the meeting in person, or if you would like to go over the slides again, you can download them below.
Presentation: "Writing Modern C++" by Marc Gregoire

Presentation: "Impact of C++11 Move Semantics on Performance" by Francisco Almeida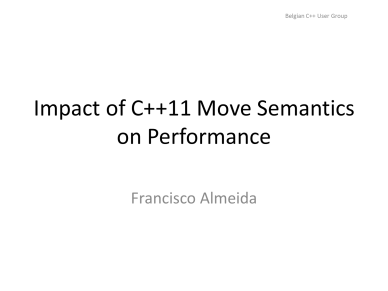 I hope to see you all on future C++ users group meetings.